Recent Events‍
Beijing Chamber of International Commerce Holds the Third Members' Congress
2017-2-8 15:11:53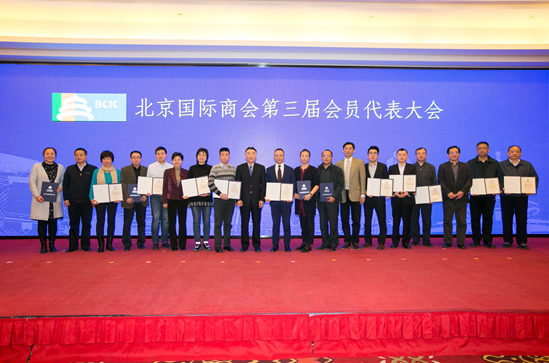 On the afternoon of December 16, the Third Members' Congress of Beijing Chamber of International Commerce (BCIC) was held in Beijing. Present were Xu Zhijun, deputy secretary-general of Beijing Municipal People's Government, Cai Guofeng, deputy secretary-general of China Chamber of International Commerce, Wang Hongcun, member of Beijing Municipal Commission of Commerce, Wen Qingyun, director of Beijing Municipal Office of Clubs, and other leaders. The meeting was chaired by Li Luxia, vice chairperson of CCPIT Beijing Sub-council.
Xiong Jiuling, chairperson of CCPIT Beijing Sub-council, who continues to serve as director of BCIC, presented the third council's ideas for work. She stressed that the new council would pay close attention to development trends at home and abroad. Given China's economic, diplomatic and foreign trade situations, it will closely conform to the 13th five-year plan of CCPIT, BCIC and Beijing Municipal Foreign Economic Relations and Trade Commission, and adhere to the fundamental purpose of "serving the government, serving enterprises, and contributing to the capital's open economic development". The council will heighten its responsibility, cooperative and innovation consciousness, innovate its service mechanism, improve its service system, and enrich its service offerings, turning BCIC into a first-rate chamber of commerce that could be trusted and relied on by the government, enterprises and all walks of life, with international characteristics and broad influence.
Xiong pointed out that the new council would do the following: Firstly, more actively serve the government, making new contribution to creating a favorable environment for open economic development. Continue to work hard to expand international exchanges, and play a bigger role in the capital's endeavor to become the nation's cultural center, international exchange center and technological innovation center. Seek more support from CCPIT and BCIC, to deepen cooperation, actively build a platform for high-end international exchanges for enterprises located in Beijing, so that these enterprises can have a bigger say. Facilitate communication between the government, social organizations and enterprises. Promote research in industry policy and measures for internationalization. Secondly, serve enterprises more effectively, and make new progress in improving the public service system. Strive to build an all-around, multilevel and wide-ranging platform for promoting investment and trade. Step up efforts to build international trade training, legal and information service platforms mainly for small and medium-sized businesses. Thirdly, strengthen its own development more proactively, and make new breakthroughs. Set up professional committees at an expedited pace, to make BCIC's services more guiding, specialized and effective. Vigorously develop social organizations dedicated to foreign trade, to make BCIC's services more open, public-oriented and wide-ranging.
According to Xiong Jiuling, the new council must seize the new opportunities for the implementation of major national strategic deployment and regional development, to carry out the new philosophy of "Innovation, Harmony, Green, Openness and Sharing". Focusing on issues of concern to the government, the public and businesses, it will perform its service function, and boldly explore new service models and new paths. It will set out from a new start, making new achievements for the prosperity and development of Beijing's open economy.