Events
CCPIT Beijing Helps Donate to Iran AI-assisted CT Systems for COVID-19 Detection
2020-4-13 9:55:51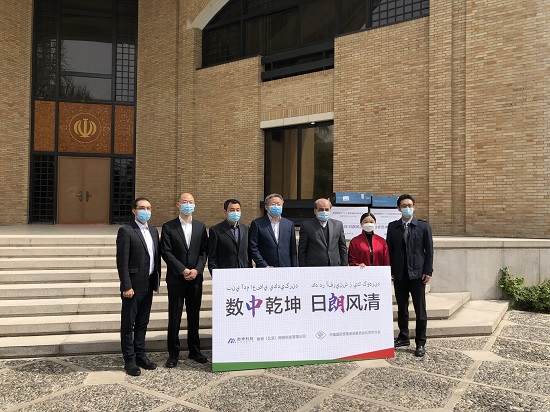 On the morning of Apr. 1st, CCPIT Beijing helped Shukun (Beijing) Network Technology Co., Ltd. donate to Iran two AI-assisted CT systems for COVID-19 detection worth USD 300,000. The donation ceremony was briefly held at the Iranian Embassy in China. H.E. Mohammad Keshavarzzadeh, Iranian Ambassador to China, and Zhu Jialiang, Vice Chairman of CCPIT Beijing, attended the ceremony.
Ma Chun'e, Chairwoman of Shukun, gave a brief introduction of how the systems work. These systems, as she put it, could help frontline doctors with accurate, rapid processing of chest CT scans and screening of suspected cases. The systems are among the earliest AI-assisted medical imaging devices. So far, they have made their way to Beijing Xiaotangshan Hospital, Beijing Ditan Hospital as well as hospitals in Hubei (e.g. The Central Hospital of Wuhan, Hubei General Hospital, Wuhan Hospital of Traditional Chinese Medicine, Wuhan Union Hospital, Zhongnan Hospital of Wuhan University, Leishenshan Hospital).
H.E. Ambassador Keshavarzzadeh noted that Iran, although its economy is weighed down by US sanctions, turns out to be the first country to send a message of support after the coronavirus outbreak in China. China has fared well and accumulated rich experience in fighting the COVID-19 pneumonia, and the final success is on the horizon. In return for Iran's support, the Chinese government and society has donated a large number of epidemic control supplies to Iran. The Iranian government and people are indebted for the timely assistance, the Ambassador claimed. Shukun's systems will play an important role in Iran's anti-coronavirus crusade. Iran is deeply grateful to CCPIT Beijing for facilitating the donation. The Ambassador hopes that both countries, under the framework of Belt and Road Initiative, would engage in close and fruitful economic and trade cooperation after the epidemic ends.
Zhu Jialiang sees the donation not only as China's support for Iran's anti-coronavirus efforts, but also as a token of friendship between the two peoples. In a community of shared future, win-win cooperation paves way for the peace and progress of human society. As a member of the capital city's anti-epidemic material export alliance, CCPIT Beijing will, true to form, facilitate such exports and donations to the whole world.